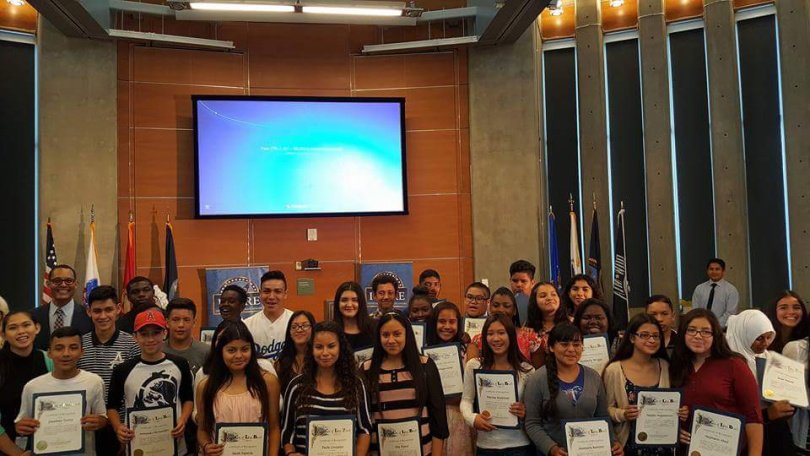 Desire, dream and work turn youths' lives around – Press Telegram
A few years ago, Alofaifo Faleono was a bashful sixth-grader with low self-esteem, not a lot of confidence and a bleak future. You couldn't tell that last week when Faleono went to the podium and gave an inspirational talk to youths who were struggling like he was just a short time ago.
Faleono, now a poised and confident straight A student at Jordan High School, told the youths they could achieve great things with hard work but they also needed something else. He quoted Muhammad Ali who said, "Champions are made from something they have inside them — a desire, a dream, a vision."
Faleono said everyone, sooner or later, goes through a difficult time in life. He called those times tunnels. "Some tunnels are longer than others for some people," he said. "Each of you is entering your own tunnel, but you will get through it."
What caused this great transformation in Faleono's life? He gave credit to his parents, teachers and Education Equals Opportunity Too, a Long Beach nonprofit created to help socially and academically at-risk youths. He was the keynote speaker at last week's graduation and awards ceremony of E=02 at the Long Beach Veterans Administration Medical Center. Faleono said he turned his life around when he decided to participate in the E=02 program at Colin Powell Academy in North Long Beach.
The E=02 program was created by Walter and Julie Larkins, entrepreneurs who wanted to do something to help at-risk students succeed in school. The program is designed for eighth-graders to achieve better grades and learn communication and job interviewing skills. The nonprofit provides mentoring, speakers, field trips and other activities for the students. The students also are challenged to achieve a 3.5 GPA. If they succeed, they are rewarded with a laptop, printer and backpack. The program also requires parent or guardian/teacher engagement in at least two school events and student participation of at least one hour per week during the school year.
Powell Academy was the first school to have the program, which then was expanded to Washington Middle School. This fall, two more schools, Lindsey Middle School and Nelson Academy, will be added. So far, results have been encouraging. In the first three years at Powell Academy, all students in the program have gone to high school with increases in their GPA. Disciplinary referrals have decreased. "It's like throwing pebbles into a pond," said Walter Larkin. "There's a ripple effect. No one succeeds without help from someone else."
Larkin and his wife own CDR Financial in addition to starting the E=02 nonprofit. Julie Larkin also is this year's president of Leadership Long Beach. Thirty-six students received their laptops Thursday. No one was smiling more than Jahmal Forte, a videographer with Next Generation After and father of twins, Janetta and Janiece, who graduated from Powell Academy and received their laptops.
Forte pointed out that another daughter, Samone, has been credited with getting girls involved in the program when boys only were in at the start. Cheri Walker, a Washington Middle teacher, and Megan Traver, Washington's principal and a member of the 2016 Leadership Long Beach class, told the audience it was an honor to help students succeed. Brian Russell, representing the Long Beach Rotary Club Charitable Foundation which gave E=02 a small grant, complimented Walter and Julie Larkins for making such a positive and extraordinary difference in the lives of young people.
Rich Archbold is public editor of the Press-Telegram. [email protected]